Shop
Your shopping cart is empty!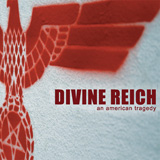 Divine Reich's first full length studio album An American Tragedy. A mixture of sunset strip sleaze and hard-edged glitch. Aggressive rock with an electro-glam beat.
REVIEWS
"...a sleazy combination of industrial, glam, and pomp rock energy. With An American Tragedy, the band blasts out a delightful mix of crunchy guitars that would surely send a few horny females running to the stripper poles and grating electronic textures and percussive attacks that would make any industrial factory-inspired band proud."

— Ilker Yücel
Regen Magazine
The album is an intense autobiographical collection of songs inspired by Theodore Dreiser's 1925 novel of the same name. An honest and impassioned portrayal of the dark side of the American Dream, the album depicts a young man's trial by fire through American Youth culture; throwing himself into the flames of vice and temptation and eventually seeking redemption. An American Tragedy is an album for anyone who has been young in America and survived to tell the tale; an album for anyone who has ever fallen in love and broken hearts, anyone who has ever felt alone and hated it.

| | |
| --- | --- |
| Tracklisting | Listen |
| 1. American Tragedy | |
| 2. Arcadia | |
| 3. AmphetiMINE | |
| 4. Hardkore | |
| 5. Idolcide | |
| 6. Anthem of the Hellions | |
| 7. Mercy For The Perpetual Sacrifice of Youthful Saints | |
| 8. St. Eric | |
| 9. Provocateur | |
| 10. Boys LIE | |
| 11. Ruin Me | |
| 12. Last Man on Earth | |
| 13. Resurrection | |

Divine Reich sticker
A red and black vinyl sticker.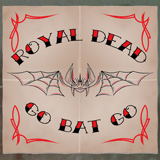 Royal Dead
Go Bat Go!
Recorded over 2011 this CD features a mix of brand new songs and reworked new interpretations of songs from the last album. Hard tunes like Dead Sled and Death Cycle tear things up while first ever recorded acoustic versions of Royal Dead songs show their diverse range.

Guest appearances include Vic Victor; from fellow psychobilly band Koffin Kats, Harley McClellan; formerly of New Orleans hardcore band When Dreams Become Nightmares, London Mourdyn formerly of Denver's Deviant, and D' MacKinnon formerly from Divine Reich and Deviant.

Featuring Death Cycle, Dead Sled, and Corpse Bride.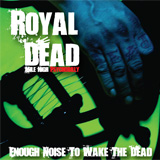 Royal Dead
Enough Noise to Wake the Dead
Over the past few years, Royal Dead has made a name for itself in the psychobilly scene with their energetic live shows. They have shared the stage with bands such as Nekromantix, Koffin Kats, and The Chop Tops and just finished their first headlining national tour. Enough Noise to Wake the Dead is their first full length album. Ten tracks ranging from surf inspired instrumentals, mosh-pit worthy punk tracks and spooky country-like ballads.

Featuring Dream Girl, Deepest Sin, and Zombie Stomp.

Royal Dead
Spider web t-shirt
Men's XL t-shirt.