Shop
Your shopping cart is empty!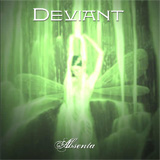 The debut release from Deviant. A hybrid of the synthetic and the organic; allusive lyrics affixed with deep emotive prominence bind with tragic melodies to form music that is both haunting and meaningful. Released in 2003 it features the songs "Keep Away" and "Angels Disappear".
REVIEWS
"They combine lush synths, supreme fuzz guitar distortion, wailing lead guitar solos and the poignant, strong, sexy, tuneful female vocal stylings of London. Deviant recalls a more accessible Switchblade Symphony, with toms that tone down verses before exploding into big, crushing choruses, and surging melody hooks that draw you in like the arms of an octopus. Deviant could hide behind the steel mask of synths and drum machines, but instead venture out wearing a human face in the form of London's all-too-mortal lyrics, and live guitar and piano."

— Rebecca Vernon
SLUG Magazine
"Absenta is one of the finest CD's I've ever heard."

— Sarah Rayne
Virus! Magazine

High quality CD-R
Track listing:
1. Angels Disappear
2. Absenta
3. Keep Away
4. Fragile
5. 9-11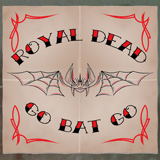 Royal Dead
Go Bat Go!
Recorded over 2011 this CD features a mix of brand new songs and reworked new interpretations of songs from the last album. Hard tunes like Dead Sled and Death Cycle tear things up while first ever recorded acoustic versions of Royal Dead songs show their diverse range.

Guest appearances include Vic Victor; from fellow psychobilly band Koffin Kats, Harley McClellan; formerly of New Orleans hardcore band When Dreams Become Nightmares, London Mourdyn formerly of Denver's Deviant, and D' MacKinnon formerly from Divine Reich and Deviant.

Featuring Death Cycle, Dead Sled, and Corpse Bride.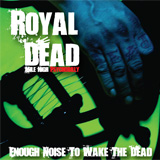 Royal Dead
Enough Noise to Wake the Dead
Over the past few years, Royal Dead has made a name for itself in the psychobilly scene with their energetic live shows. They have shared the stage with bands such as Nekromantix, Koffin Kats, and The Chop Tops and just finished their first headlining national tour. Enough Noise to Wake the Dead is their first full length album. Ten tracks ranging from surf inspired instrumentals, mosh-pit worthy punk tracks and spooky country-like ballads.

Featuring Dream Girl, Deepest Sin, and Zombie Stomp.

Royal Dead
Spider web t-shirt
Men's XL t-shirt.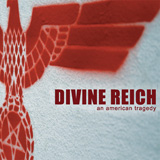 Divine Reich
An American Tragedy
Divine Reich's first full length studio album An American Tragedy. A mixture of sunset strip sleaze and hard-edged glitch. Aggressive rock with an electro-glam beat.