Shop
Your shopping cart is empty!
Divine Reich is the brainchild music project and social experiment founded by Kristian 13 and Dí MacKinnon in 2004. Having previously worked together in another project, Kristian and D' started working on the debut Divine Reich album in mid 2004. The material recorded was strong enough to garner interest from several major record labels but the band members were focused on other projects at that time. Starting in summer of 2006, Divine Reich reconvened to finish recording their highly anticipated album. The music is as catchy as it is provocative. Taking from their influences of 70's glam rock, 80's synthpop and 90's industrial and metal, Divine Reich are pushing the boundaries of the modern rock world. Look to 2007 for the release of Divine Reich's American Tragedy.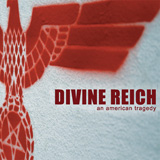 An American Tragedy
Divine Reich's first full length studio album An American Tragedy. A mixture of sunset strip sleaze and hard-edged glitch. Aggressive rock with an electro-glam beat.

Divine Reich sticker
A red and black vinyl sticker.