Shop
Your shopping cart is empty!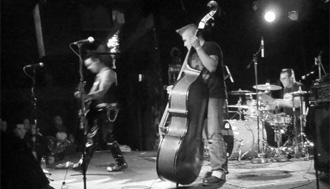 GO BAT GO!!
Energetic, loud, brash, Royal Dead are making waves in the psychobilly scene. Fast guitars, stand-up bass and aggressive drumming support songs about hot rods, girls, zombies, ghosts, the paranormal, love and hate.
Hailing from Denver, Colorado, Royal Dead formed in early 2004 and saw a few lineup changes before their current incarnation of Eddie Suicide on vocals and guitar, T.J. Miller on bass and back-up vocals, Eric Wood on drums
Royal Dead have gone on several national tours and have shared the stage with The Meteors, The Nekromantix, The Chop Tops, The Koffin Kats, Zombie Ghost Train, The Henchmen, The Mansfields, The Quakes, Ghost Blood, Three Bad Jacks, 18 Wheeler, The Peacocks, Buckwild, Hoss, Get Three Coffins Ready, Seraphim Shock, Calabrese, Brutally Frank, Sasquatch and the Sick-A-Billys, Th' Legendary Shack Shakers, The Limit Club, The F-Holes, Pickled Punks, plus many more.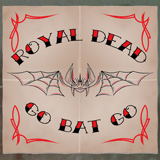 Go Bat Go!
Recorded over 2011 this CD features a mix of brand new songs and reworked new interpretations of songs from the last album. Hard tunes like Dead Sled and Death Cycle tear things up while first ever recorded acoustic versions of Royal Dead songs show their diverse range.

Guest appearances include Vic Victor; from fellow psychobilly band Koffin Kats, Harley McClellan; formerly of New Orleans hardcore band When Dreams Become Nightmares, London Mourdyn formerly of Denver's Deviant, and D' MacKinnon formerly from Divine Reich and Deviant.

Featuring Death Cycle, Dead Sled, and Corpse Bride.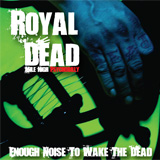 Enough Noise to Wake the Dead
Over the past few years, Royal Dead has made a name for itself in the psychobilly scene with their energetic live shows. They have shared the stage with bands such as Nekromantix, Koffin Kats, and The Chop Tops and just finished their first headlining national tour. Enough Noise to Wake the Dead is their first full length album. Ten tracks ranging from surf inspired instrumentals, mosh-pit worthy punk tracks and spooky country-like ballads.

Featuring Dream Girl, Deepest Sin, and Zombie Stomp.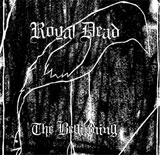 The Beginning EP
The first recording by Royal Dead! This three song CD contains the original demo versions recorded in January 2006.

Spider web t-shirt
Men's XL t-shirt.

Cloth Patch
Red and black patch.